Drawing on a network of 17 companies that are experts in building and maintaining clean environments, LAB'SCIENCE combines both a wide range of skills and the operational flexibility of an SME. Each of these entities has specific expertise suited to each stage of the design process.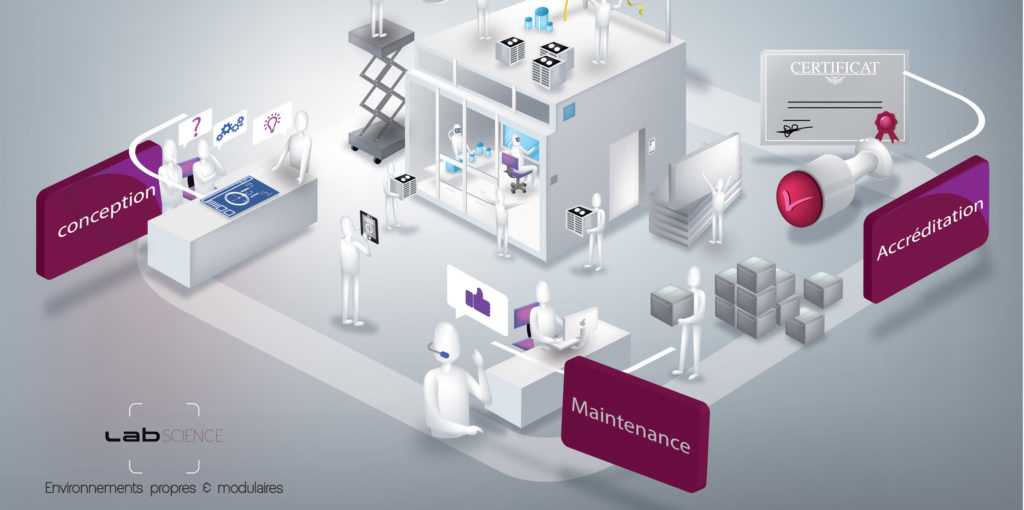 The strength of a group, the flexibility of an SME
Acting as a project accelerator, this network operation means we can offer you a global solution integrating all aspects of modular clean room design, while offering you the comfort of a single point of contact in the implementation of your project.
Unique in France, this structure enables us to meet all your needs thanks to a global package combining the expertise of key players in the sector in consulting, assistance, control, development and installation of environments in controlled atmosphere (clean rooms, grey rooms, decontamination airlocks, etc.).
LAB'SCIENCE Network offers
Design, manufacture, expansion, layout, inspection: the combined expertise of the companies in the network means we can offer you tailor-made support and cover all your needs:
study, engineering and design of clean rooms;
metallic structures;
industrial piping;
industrial boilermaking;
industrial welding;
industrial electrical installations;
relamping;
optical fibre;
air treatment;
HVAC installations and inspection;
BMS/ CTM;
special fluids;
HEPA and ULPA filters;
laminar flow hoods;
clean room envelope and partitions;
laboratory furniture and equipment;
multimedia equipment;
clean room monitoring and qualification;
operational maintenance;
advanced disinfection and decontamination.
Would you like more information?