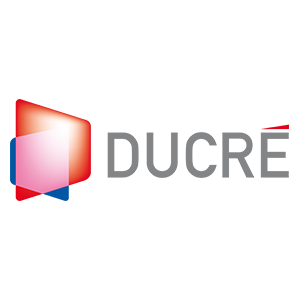 Ducré specialises in the management of air treatment plants and energy management.
Its teams master HVAC (fluid) performance and installation studies for controlled atmosphere environments such as in clean rooms (ISO 4 to ISO 8) and containment laboratories (P2, P3, P4) in industrial environments.
Partner to industry professionals
Ducré operates in the nuclear, pharmaceutical, cosmetics, biotechnology and nanotechnology industries (air conditioning, ventilation, heating, refrigeration, air handling units, energy production, plumbing fluids, heat pumps, CTMs, etc.).
Founded in 1929, Ducré is a company on a human scale, specialising in Climate Engineering. Based in Alençon, it has almost 100 years of know-how in heating, air conditioning, industrial piping, plumbing, electricity and maintenance. In 2013 the Ducré company became the New Ducré company and then went on to join the LAB'SCIENCE network in 2017.
From HVAC fluids to industrial piping: our areas of expertise
Ducré provides its skills and know-how to support your projects for the design, construction and implementation of air conditioning or industrial refrigeration systems providing heating, ventilation and cooling functions.
Its experts support you in maintaining your performance and optimising your installations (air handling unit, HVAC fluid, etc.):
HVAC Clean Rooms : HVAC manufacturing and installation, clean rooms ISO 4 to ISO 8, classes A, B, C and D;
Ventilation : sanitation, specific extraction, etc;
HVAC Laboratories : manufacturing and installation of P2, P3, P4 laboratories;
Hygrometry : humidity, relative humidity, mass of water in the air, dry rooms, etc;
Temperature control : speed of variation, standard deviations, tolerances, etc;
Dust control : suction, VOC treatment, specific filtration, etc.
Website : www.ducre.fr
Would you like more information?