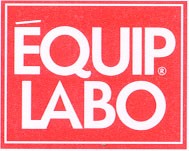 Equip Labo is
the leading French manufacturer of laboratory furniture and equipment for industry
and has been specialising for over 40 years in laboratory design and layout projects, and in particular in custom installations with high technical added value.
Our expertise and our ability to listen and understand the specific needs of our customers enable us to offer them tailor-made global solutions (laminar flow hoods, multimedia equipment for clean rooms, etc.).
Laboratory equipment: areas of activity
Equip Labo is the privileged partner of many players in industry and research for the design and installation of laboratory furniture:

Health institutions (hospitals),

Pharmaceutical industry (public and private laboratories),

Higher education (universities),

Chemistry and petrochemistry,

Cosmetics and perfumery,

Agri-food sector.
A wide range of services
Equip Labo offers an integrated approach to the design of laboratory equipment, with a range of solutions covering the design, manufacturing, delivery and installation of laboratory furniture, including maintenance and servicing.
The Equip Labo promise
Equip Labo puts at your disposal :
A dedicated contact for your project,
A written agreement on prices, performance lead-times and final project date,
A complete range of products tailored to your environments and your budget,
A sales team to assist you on a daily basis,
A unique capacity to provide you with a global solution for your laboratory environment.
Website : www.equiplabo.com
Would you like more information?